EXCLUSIVE: Ram Gopal Varma reveals exhibitors in B and C centres had changed the classy poster of his Ajay Devgn-starrer Company: "They also showed Ishaa Koppikar exposing her thighs"
Read Time:
3 Minute, 33 Second
In May 2022, in an exclusive interview with Bollywood Hungama, Farah Khan shared interesting information with regards to her debut directorial, Main Hoon Na (2004), starring Shah Rukh Khan. She said, "Different posters were made for B and C centres in which Shah Rukh was holding a gun in his hand, and Suniel Shetty was also featured! In Mumbai, the posters gave the idea that it was a fun, musical entertainer."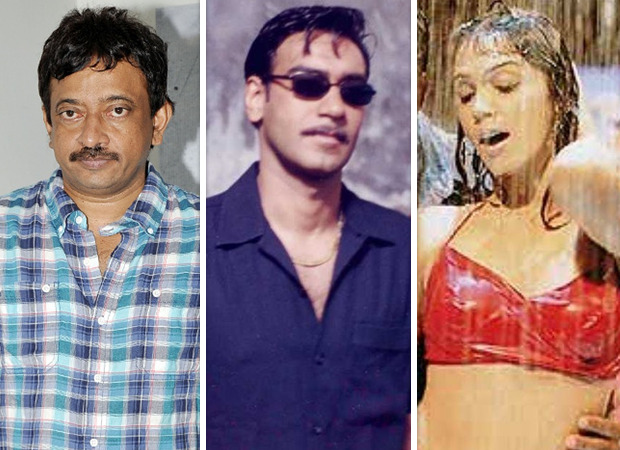 However, there have been times when the distributors or exhibitors refused to put up the posters provided by the makers. Instead, they have taken commercially-appealing stills or snapshots of older films and made them seem like the poster of the actor's latest film. The idea behind it is to attract moviegoers, never mind that it results in cheating.
Ajay Devgn, in fact, got into trouble when an Ajmer resident went to the court and asked for Rs. 4.50 lakhs. According to the complainant, a local cinema hall, which was playing his 2019 romcom, De De Pyaar De, had put up a poster that showed Ajay doing a stunt. But the said scene was not there in the film. Ajay, however, was granted relief in this case as his legal team made it clear that he can't be held responsible for publicity and promotional material. The bench said an actor has nothing to do with hoardings, posters or deciding on the parts to be edited out.
During his exclusive interaction with Bollywood Hungama, Ram Gopal Varma said that his film Company (2002), which also starred Ajay Devgn, also had such modified posters made. He said, "I had designed a classy poster of my film Company, featuring Ajay Devgn and Vivek Oberoi. When it released, nobody in the North put up that poster. They created a new poster, featuring Ajay Devgn from a different film, holding a gun. They also showed Ishaa Koppikar exposing her thighs. I had never put that on any of my posters! They picked it from somewhere."
RGV then added, "However, I think they are right in doing so because they are catering to an audience who they know. That poster would surely appeal to the guy visiting single-screen cinemas in Patna. So there's a logic to it."
Ram Gopal Varma remarked that often our film personalities are not aware of the realities of the country and what works in A-class centres might not appeal to the mass audiences. To prove his point, he narrated an interesting anecdote, "When Dolby and DTS came to India, its officials used to fly down from London to teach filmmakers how to handle it. They had strict standards of how much volume you can have for the sound, what decibel of sound should come in the left and right speaker, etc."
RGV continued, "This was a time when Mr Subhash Ghai was working on Trimurti (1996). The tendency then was to play everything on high sound. These Dolby officials however said, 'No, no, you can't do that. Bring the volume down'. Subhash Ghai was fed up with their diktats. They were in Prasad Labs, Chennai. He took them out of the studio on the streets and asked, 'Have you heard such traffic noise in your country? People are using the horn in their cars all the time and they are shouting and talking. You can't put what your audience wants and our audience on the same page'."
That's not all. Ram Gopal Varma revealed, "Later, he took them to see a Rajinikanth film, which had been released at the same time. Inside the theatre, for the first 30 minutes, nobody could hear anything except people shouting and cheering! He asked them, 'How do you incorporate your idea of sound level in such an environment? You are catering to an audience that watches films silently. Here, there is an audience whose decibel level is much more than the decibel level coming from the speakers'!"
Also Read: EXCLUSIVE: Ram Gopal Varma opens up on the debacle of Aamir Khan's Laal Singh Chaddha and Akshay Kumar's Raksha Bandhan; says "Bollywood films are not FLOPPING due to any boycott campaign. But people do possibly have ill-feelings"
News Source : Bollywoodhungama.com