Everything Everywhere All At Once starring Michelle Yeoh to release in India on September 16, 2022
Read Time:
4 Minute, 32 Second
Ever since the film opened in the United States in early 2022; everyone in India has been eagerly waiting for this kung-fu flick's Indian debut. Everything Everywhere All At Once is being brought into India by Impact Films.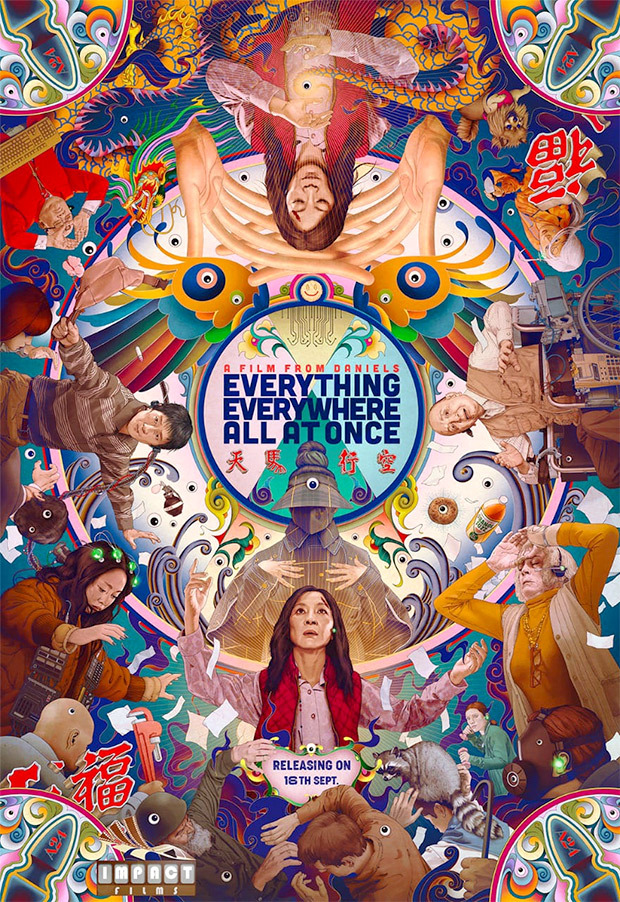 According to its founder and CEO Ashwani Sharma, "We were very clear right from the beginning that we are going to release this film on big screens rather than going straight to digital platforms as this film is a rare cinematic experience which needs to be enjoyed only in theaters. It's not coming on any OTT anytime soon as we may not license it before Academy Awards nominations are revealed."
He further adds," CBFC has passed the film without any cuts thereby ending the reservations and curiosity of several audiences who were worried as to what might get chopped off. It's now the same version that's being watched worldwide".
It's the story of an exhausted Chinese American Woman who is swept up in an insane adventure, where she alone can save the world by exploring other universes connecting with the lives she could have led. When the film opens, we meet Evelyn Wang (Yeoh) as a harried laundromat owner, living above her business in a cramped apartment and facing a mountain of paperwork amid an audit from the IRS. She is stressed about her aging father (James Hong) coming to stay and struggles to listen to both her grown daughter Joy (Stephanie Hsu) and her tender-hearted husband Waymond (Ke Huy Quan). But while meeting with an IRS agent (Jamie Lee Curtis), a strange occurrence involving her own husband pulls her into a multidimensional adventure that puts the fate of every universe in her hands—and also forces her to confront who she is to herself and her family. At the core it's a Mother Daughter Story and connects at an emotional level. It's a rare film which has so many genres encompassed in its more than 2hours 20 minutes duration that a viewer gets exposed to Action, Adventure, Comedy, Fantasy and Science Fiction; all at the same time. It's a treat for the fans of Multiverse and has no other comparable film of its type.
Written & Directed by Daniel Kwan and Daniel Scheinert, collectively known as Daniels; they have been writing and directing together for over a decade. They've developed a reputation for combining absurdity with heartfelt personal stories. Oftentimes they incorporate a unique brand of visual effects and visceral practical effects into their genre blending projects. They are known for the feature film SWISS ARMY MAN starring Daniel Radcliffe which went on to win the Directing Award at Sundance, received multiple nominations and gained a large cult following. "If our script was a prayer, then our movie was a miracle, and the hands doing God's work belonged to the film crew/family." Daniels, the directing-duo on #EverythingEverywhere. "We could say a million things about it, but the most simple, honest thing is it's about a mom learning to pay attention to her family in the chaos," says Kwan. "One of our favorite things to do is make people feel emotional while looking at something that is absurd," Scheinert says. "Whenever we can pull that off it's just like, oh, what a fun feeling! We feel emotion, but we also feel this kind of mischievous joke has been pulled."
The real star of the film is Chinese actress Michelle Yeoh who gives her performance of the lifetime. Michelle Yeoh is recognised as one of the greatest and the most successful actresses from the east post the success of Crazy Rich Asians. In Everything Everywhere All At Once, Yeoh is unkempt, emotionally flayed, and put through the multiverses ringer in a role that is entirely singular within a prolific, decades-long international career. Daniels offered Yeoh a new way to see herself on-screen. "I love working with younger directors because they don't see you in the conventional way," Yeoh says. "They want to peel that onion and see what other layers there are, and then start throwing crazy things at you."
In the film, Evelyn being played by Michelle becomes a Neo-like chosen one specifically because she is the single-most failed version of all her potential selves. "That gives her superpowers to be able to defeat the bad guy," Kwan says. "But," Scheinert notes, "Mostly she gets distracted by all these lives that she wished she had led." "It really felt like the script came alive when it became about the mom and it was Michelle as the lead," says Scheinert. For Evelyn, she has to confront a multiverse on the brink of collapse—an extreme manifestation of the sensory overload that the modern world is increasingly defined by—to see the family that has always been there. "You have to go to the end of the world to find out what really matters to you: your daughter, your husband—would you make another choice?" Yeoh ponders.
The film is produced by Jonathan Wang and Russo Brothers; Anthony Russo & Joe Russo. Impact Films release, Everything Everywhere All At Once directed by Daniel Kwan and Daniel Scheinert starring Michelle Yeoh, Stephanie Hsu, Ke Huy Quan among others, in cinemas from 16th of September 2022.
Also Read: Michelle Yeoh to headline Netflix gangster drama series The Brothers Sun; other cast members revealed
News Source : Bollywoodhungama.com